Microgrid Packages
10 - 100 Megawatt Microgrid
For green industrial, large commercial campuses, data centers and casinos
Summary
---
Colocation, Engineering

Model

3-10¢ / KWh

Cost

20 to 500 Acres

Area

30+ years

Terms
Description
---
Waterbear large microgrids suit both new and existing properties who need to generate their own electricity and are looking at independent generation from utilities. A Waterbear 10-100 megawatt grid helps large commercial and industrial projects achieve reliable electricity while also being able to meet climate regulations in most jurisdictions.
Large microgrids can be designed to provide redundant power solutions and backup to a nearby utility if required by the project. Each addition of generation technology combined with battery storage adds resilience to the grid's ability to respond to outages and provide backup power. This is especially important for mission critical projects.
For argicultural projects, a carbon capture component can be added to gas turbine generators and redirected to increase plant productivity. This also helpful for new regulatory regimes that have specific CO2 requirements and require turbines when a large thermal load (air conditioners) is present.
Sample Plan
---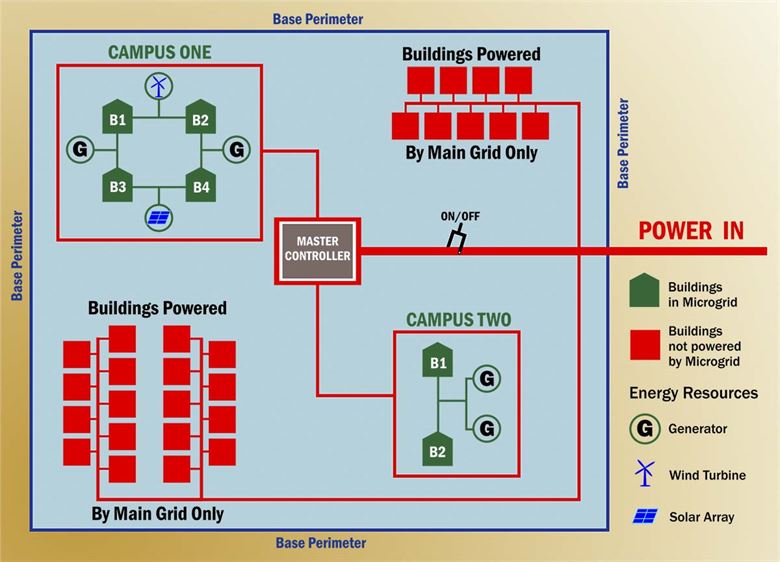 Available Equipment
---
Solar Cell
Wind Turbine
Gas Turbines
Battery Storage
Fuel Cell
Combined Heat and Power (CHP)
CO2 Redirect
Photos
---