Microgrid Packages
3 - 9 Megawatt Microgrid
For casinos, small industrial, & commercial buildings
Summary
---
Colocation

Model

5-15¢ / KWh

Cost

<1 to 10 Acres

Area

15+ years

Terms
Description
---
Waterbear small microgrids suit both new and existing properties who need to generate their own electricity or moderate their usage from utility grids. The advantage of a 3-9 megawatt grid is the ability to develop land that does not have a reliable power source or is in an expensive electricity market. Not only do microgrids help properties become self sufficient and increase budget performance, they also help property managers increase the reliability of their project's energy.
In most cases a microgrid of some form will save a property owner and developer a significant cost because at a minimum batteries are used to store power at non-peak rates. Through a colocation model, Waterbear helps properties forget about the management and maintenance and provides power in a model similar to a utility - all while delivering the benefits of personal power generation.
For argicultural projects, a carbon capture component can be added to gas turbine generators and redirected to increase plant productivity. This also helpful for new regulatory regimes that have specific CO2 requirements and require turbines when a large thermal load (air conditioners) is present.
Sample Plan
---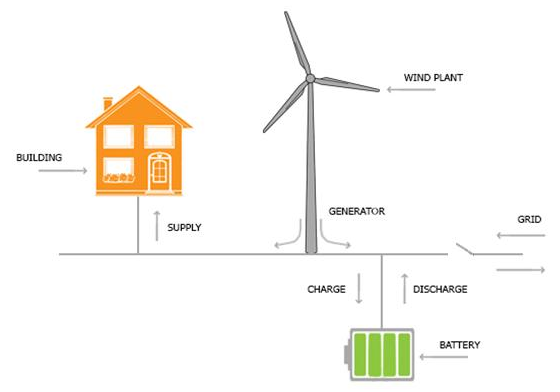 Available Equipment
---
Solar Cell
Wind Turbine
Gas Turbines
Battery Storage
Fuel Cell
Combined Heat and Power (CHP)
CO2 Redirect
Photos
---